SRD R350 Grant Beneficiaries Who Receive Money At Post Office, Here Is A Message is For You
Here's an important message. Please share it with other SRD grant beneficiaries. Sassa and Post Office work together to make sure that unemployed South Africans get the best quality service when they visit the post office.
You may also like:SASSA R350 Grant 2021:Who Qualifies,How To Apply and Check Application Status
All beneficiaries who receive their money via the post office, are advised to wait for an SMS first. The SMS will tell you when to visit the post office to collect your Sassa R350 grant. I can imagine how depressing this can be, but at the end of the day, we have to follow correct rules to avoid disappointments.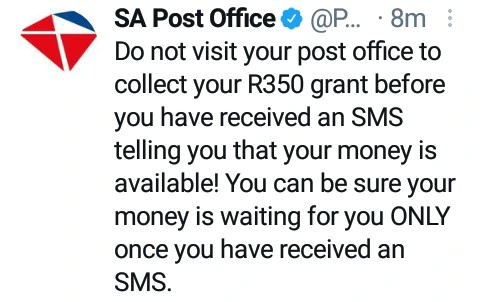 One of the reasons why they say so is because once you received an SMS, you will have a 100% guarantee that your money is available for collection. And again, after receiving an SMS, you will have to check the last three digits of your identity document before you visit the post office.
Avoid taking unnecessary trips to the post office and wasting your transport money, only to be disappointed when you get there. So guys, do the right thing and wait for an SMS from Sassa, after that check your last three digits of your identity document then you will never go wrong.
Additioanlly,make sure you avoid sharing your personal information with strangers, if you need any information, ask Post Office officials.
You may also like: SASSA R350 Grant 2021:Who Qualifies,How To Apply and Check Application Status
SASSA: View Your R350 Grant Appeal Status and Deadline Here
SASSA R350 Grant 2021:Who Qualifies, How To Apply and Check Application Status
The Sassa R350 is basically a Social Relief of Distress (SRD) grant: The government of South Africa has offered this special COVID-19 Social Relief of Distress grant to unemployed citizens. So if you're one of these beneficiaries, all you to do is apply. SASSA staff and appointed volunteers can assist.
You may also like:SASSA: View Your R350 Grant Appeal Status and Deadline Here
The President declared the National State of Disaster as a result of the Covid-19 global pandemic. In this regard he introduced a special Covid 19 Social Relief of Distress Grant (SRD) of R350 per month to be paid to individuals who are currently unemployed, do not receive any form of income, social grant or UIF payment etc.
The Special COVID-19 Social Relief of Distress amount is R350 per month, from the date it is approved. The grant has been extended for a further 3 months.
Is SASSA R350 Grant Extended
Are you one of the South African beneficiaries who are wondering if SASSA R350 will be extended? Worry not. We've got answers for you.
How To Apply For SASSA R350 Grant
Here's How to apply:
The application process is quick and easy, you can use either WhatsApp, USSD, email, call or visit their website.
WhatsApp: 0600 123 456 and select SASSA
USSD: *134*7737#
E-mail: SRD@sassa.gov.za(link sends e-mail)
Call centre IVR: 0800 60 10 11
Website:  https://srd.sassa.gov.za
No paper-based applications will be accepted.
Payment will be effected through a channel of your choice.
Once applications are approved, SASSA will request confirmation of bank account through a secure site – this will also be done electronically.
Any applicant has the right to request confirmation that this request is from SASSA to protect themselves.
APPLICATIONS ARE FREE: There is no charge to apply – applicants are cautioned not to buy "application forms" – these are not genuine and will not be processed.
Citizens without bank accounts can also apply.   In this case, payment will be effected through a money transfer, once all the necessary validations have been completed.
Applicants are cautioned not to provide their banking details to anyone.
SASSA will only request banking information once the application has been approved.
All beneficiaries and applicants should never give their PIN number or the CVV number on the back of the banking card to anyone – not even SASSA.
How To Check SASSA R350 Grant
COVID-19 SRD Grant Application Status
Please follow this link to check the status of your COVID-19 SRD grant application.
Link: https://srd.sassa.gov.za
Who Qualifies For SASSA R350 Grant
To qualify for the Social Relief Grant, Applicants must be:
South African Citizens, Permanent Residents or Refugees registered with Home Affairs;
Resident within the borders of the Republic of South Africa;
Above the age of 18;
Unemployed;
Not receiving any income;
Not receiving any social grant;
Not receiving any unemployment insurance benefit and does not qualify to receive unemployment insurance benefits;
Not receiving a stipend from the National Student Financial Aid Scheme;
Not receiving any other government COVID-19 response support; and
Not resident in a government-funded or subsidised institution.
This Is information is required For SRD Grant Application:
Identity Number;
Name and Surname as captured in the ID (and initials);
Gender and Disability;
Banking details – Bank Name and Account Number;
Contact details – Cell phone number;
Proof of Residential Address;
SASSA has not made it a requirement for applicants to scan in supporting documents such as ID, proof of address or bank statements.
By just a mere application, applicants give consent for SASSA to validate the financial and other information against data sources held by government and financial institutions – including SA Revenue Services and banks.
Therefore, you need to be careful because providing false information in an effort to qualify for the grant is an offence and will result in prosecution.
Will SASSA R350 Be Extended
SASSA R350 Grant Has been extended For A Further 3 Months
The R350 Social Relief of Distress Grant (SRD) which is being administered by the South African Social Security Agency (Sassa) has been extended for a further three months to provide financial relief to those who are unemployed during the lockdown.
The good news about this is that recipients who are already registered on the system do not need to reapply.
After more than R16 billion was paid to approximately 6.5 million monthly recipients since May last year, the grant recently expired in January 2021.
But during his State of the Nation Address on Thursday night, President Cyril Ramaphosa confirmed that the grant would be extended due to ongoing socioeconomic pressures resulting from lockdown regulations.
additionally, this extension does not require any SRD beneficiary to access local Sassa offices. Since the country is still in trying times, the agency is desperately trying to minimise queues and human contact at its offices, following the abrupt expiration of Temporary Disability Grants which caused chaos at Sassa sites.